San Fernando Obon Festival
San Fernando Valley Japanese American Community Center
12953 Branford Street
Pacoima, California
United States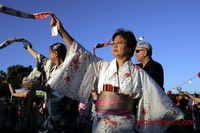 The San Fernando Buddhist Temple is hosting a Japanese American festival. Everyone and Anyone is welcomed to come. Games and food booths in the bazarr; bonsai exhibitions; a bookstore; and Obon dancing.
The Obon festival will take place at the SFVJACC, additional parking for the event will be on the street or at the Temple.
Dancing on Saturday will begin at 6:00pm
Sunday will being at 5:30pm
for more information call (818)899-4030

kacieyoshida . Last modified Jul 09, 2010 12:12 p.m.
---