Summer Taiko at Stanford
Braun Music Center
541 Lasuen Mall
Stanford, California, 94305-3076
United States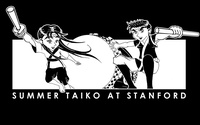 FOR: 9 to 14 year-olds who are beginners or who can play with "Beginner's Mind"
WHEN: 9am to 2:30pm, Monday July 11 - Friday July 15
WHERE: Braun Music Center , Stanford University
COST: $375; includes instruction by members of San Jose Taiko and Stanford Taiko, bachi (drumsticks), mid-morning snacks, and camp t-shirt.
Space is limited. Early registration is highly recommended!
A $50 deposit + registration information must be received in order to reserve your child's spot.
REGISTRATION & INFORMATION: Download the registration form here . For more information, send an email to summertaiko@taiko.org , or call (408) 293-9344.
Tuition subsidies are available to qualified families and will be distributed on a first-come-first-served basis. For more information, contact us at summertaiko@taiko.org .
About the Camp...
The goal of the camp is to introduce beginners to North American taiko, a dynamic and relatively new Asian American art form with roots in Japan. The philosophy of the camp is to provide an environment for participants which creates a sense of community and a positive attitude towards diversity and creativity.
Instructors for the camp are selected from performing members of San Jose Taiko and Stanford Taiko . San Jose Taiko members bring with them professional performing experience and a 26-year history of training South Bay youth through their Junior Taiko program . Members of Stanford Taiko bring considerable dedication to the art form and boundless energy and ideas for sharing taiko with others.

San_Jose_Taiko . Last modified Mar 22, 2011 3:52 p.m.
---