56th Annual Ginza Holiday!!
Midwest Buddhist Temple
435 West Menomonee Street
Chicago, Illinois
United States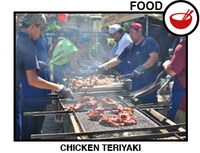 On August 12, 13 and 14 , the Midwest Buddhist Temple will once again bring Japanese culture to the Old Town Triangle area in the form of crafts, food, dance, music and martial arts demonstrations.
Come see the Waza, a special Saturday night performance by Yoko Noge and her band, Taiko, martial arts and Japanese dance performances.
Come taste delicious chicken teriyaki, sushi, udon, edamame and, of course, the very Japanese corn on the cob.
Come experience the richness of Japanese culture shown through our indoor cultural displays of Sumi-e, Ikebana, Bonsai – even have your name written in Japanese calligraphy, Dharma talks in the chapel.
Visit our vendors to find just the right gift for yourself or loved one.
Schedule http://www.midwestbuddhisttemple.org/GINZA2011/FridaySchedule.html
Gates open Fri 5:30 Sat and Sun at 11:30
Enter the raffle for a chance to win $1000, $500 or $300 cash.

intrepidmouse . Last modified Aug 01, 2011 4:24 p.m.
---