Himawari: A collaboration of San Jose Taiko and Hanayui
San Jose Repertory Theatre
101 Paseo De San Antonio
San Jose, California, 95113
United States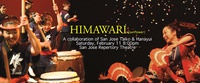 Date: Saturday, February 11, 2012
Time: 8:00PM
Venue: San Jose Repertory Theatre
101 Paseo De San Antonio
San Jose, CA 95113
Tickets: $25 adult/$20 students & seniors*
General seating
*Get a discount by pre-ordering your tickets!
Call 408-293-9344 to place your order by 5pm on February 10, and save $5 per ticket.
Contact Information:
San Jose Taiko
408-293-9344
info@taiko.org
HIMAWARI (Sunflower) is the union of the performers of San Jose Taiko and Hanayui in a unique collaboration where cultural boundaries and aesthetic sensibilities are shared and tested. HIMAWARI will feature the San Jose Taiko performing company, the three members of Hanayui - Chieko Kojima, Yoko Fujimoto and Mitsue Kinjo, and guest artist, Yoshikazu Fujimoto of Kodo.
The project name- -HIMAWARI was selected for the sunflower's strength in character for reaching and following the sun, a symbol of power, energy, clarity, and knowledge, and a source for nurturing and sustaining life.San Jose Taiko brings the power of the taiko and movement and Hanayui brings expertise of Japanese dance and song.
Both groups have been creatively exploring their common roots and new offshoots of their Japanese ancestry through music and dance---San Jose Taiko coming from the Japanese American community in San Jose, California and Hanayui coming from Kodo Village on Sado Island in Japan.The HIMAWARI program includes traditional folk songs and dance from Japan; contemporary taiko drumming from America and a collaborative process that has combined all elements into something new and different. The program will showcase original arrangements from both Hanayui and San Jose Taiko and present the west-coast premiere of several collaborative works.
From 2000-2002, members of SJT and Hanayui collaborated on creating material for the original Himawari (Sunflower) tour, a full-length concert program that debuted in Hawaii in 2002. Although the program was well-received by critics and general public, the project was unable to present within the contiguous US states at that time. Hanayui is returning to the states in February and March of 2012, and SJT suggested a revival of the Himawari collaboration as a way to present them in San Jose.
*********
Hanayui is a song and dance group made up of Kodo members Chieko Kojima and Yoko Fujimoto joined by Okinawan dance expert Mitsue Kinjo. The Japanese word "hana" means "flower" and symbolized the youthful energy that Hanayui puts into their performances. The word "yui" means "to tie," and recalls the relationship formed in ancient villages in Japan when families came together to share in both hardships and harvests.
Chieko Kojima Born in Iwafune, Tochigi-prefecture, Chieko first encountered Japanese folk dancing when she joined Ondekoza in 1976. When Kodo was formed, Chieko carved out a niche for herself as one of the few regularly performing female members. She is noted for the original style of her dancing in Kodo's taiko-based performance. Chieko enjoys expanding her repertoire and meeting new and stimulating people in her travels across the globe.
Yoko Fujimoto Yoko joined Ondekoza (later Kodo) in 1976. After three years appearing as a Koto player, singer and dancer, she stepped down from the stage to edit the monthly Japanese language newsletter 'Kodo' for the next 13 years. In 1989 she began to sing again and has been Kodo's principal vocalist ever since. In 1996 she toured Cuba and North America with her husband Yoshikazu Fujimoto, Kodo's principal O-daiko player, giving drum-and-song workshops. She also conducts 'Voice Circle' workshops which help participants to rediscover song and the power of their own voices.
Mitsue Kinjo Okinawa-native Mitsue Kinjo entered the Okinawan dance groupe "Hana no Kai" in 1979 and was trained by Takako Sato. It was through her activities in Okinawan dance that Mitsue first encountered Kodo. Later, after receiving the Okinawa Times Highest Award for Achievement in the Performing Arts, Mitsue married a Kodo member and moved to Sado Island. Mitsue first participated in the Kodo Village Festival as a member of Hanayui, and has continued in to participate as a dancer in other capacities since.

San_Jose_Taiko . Last modified Jan 07, 2012 2:03 p.m.
---