AAJA-LA V3con Digital Media Conference
Japanese American National Museum
100 N Central Ave
Los Angeles, California, 90012
United States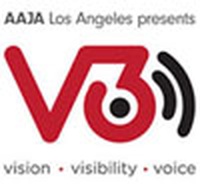 JANM and NCPD hosts the Asian American Journalists Association, Los Angeles Chapter (AAJA-LA) V3 "Vision. Visibility. Voice." Digital Media Conference.
AAJA-LA V3 is the only digital medial conference for Asian American and Pacific Islander (AAPI) mainstream journalists, digital media journalists, bloggers and those interested in social media. It is an opportunity for those communicating on numerous digital platforms including social media and blogs and their readers, to interact, engage in person and to encourage and inspire those who are interested in communicating online.
Participants can initiate connections and create lasting global dialogues, which extend beyond the conference—both online and offline. JANM Members are invited to be a part of the stimulating discussions around the "who, what, where, when why, and how" for AAPI-centered blogging and digital media. Current JANM Members receive discounted registration.
More information at www.V3con.com

JANM . Last modified Jun 22, 2012 7:53 a.m.
---