EXHIBITION: Folding Paper: The Infinite Possibilities of Origami
Thorne-Sagendorph Art Gallery
Keene State College
Keene, New Hampshire, 03435
United States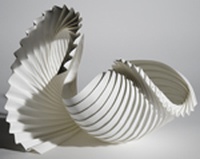 A groundbreaking exhibition that explores the evolution of origami from craft to fine art, and its stunning modern-day applications in the fields of mathematics, engineering, design, and the global peace movement.
This exhibit is free and open to the public.
Gallery Hours:
Sunday-Wednesday: noon - 5pm
Thursday & Friday: noon - 7pm
Saturday: noon - 8pm
www.keene.edu/tsag

Folding Paper is curated by Meher McArthur with tour organized by the Japanese American National Museum, Los Angeles, and International Arts & Artists, Washington, DC. The exhibition was generously supported by the E. Rhodes & Leona B. Carpenter Foundation.

vkm . Last modified Oct 18, 2012 4:29 p.m.
---