Saturday Night Sushi
Japanese Cultural and Community Center of Northern California
1840 Sutter St
San Francisco, California, 94115
United States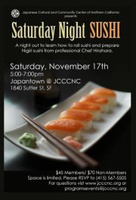 "Saturday Night Sushi" is a hands on sushi 101 class. You will learn the basics of preparing sushi rice, slicing fish, creating a Hosomaki roll (rice on the inside), Uramaki (rice on the outside), and Nigiri sushi. You will also get a chance to show your creative side with a "create your own roll" at the end. All recipes will be given out at the end of the class.
This will be a fun filled night with awesome giveaways. So come join us at "Saturday Night Sushi"!
http://www.facebook.com/events/164513753688600/
Tickets:
$45 Members
$70 General Public
Register at:
(415) 567-5505
For Questions please email: programsevents@jcccnc.org

Cikeda . Last modified Oct 30, 2012 4:16 p.m.
---