LTHS Monthly Meeting and Calendar on Sale!
Tokyo Villa, Garden Room
222 S. Central Ave.
Los Angeles, California, 90012
United States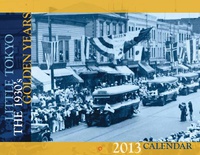 Get involved in Little Tokyo Historical Society's projects and events! Monthly meeting is coming up on 12/1 and calendar is now on sale.
Hot off the press, the "Little Tokyo 1930's Golden Years" 2013 calendar is now for sale for $10! You can purchase the calendar at Little Tokyo Service Center: please ask for Amy Phillips. Also sold through Contact Us and select locations in Little Tokyo.
"In the 1930s, Little Tokyo was the undisputed commercial, residential and cultural center for all the Japanese in Southern California. Despite the depression, with the coming of age of the Nisei, Little Tokyo was in its heyday as it grew and prospered. This calendar's photographs and descriptive text will give you a visual picture of Little Tokyo's 'Golden Years.'"
We welcome anyone who is interested in preserving Little Tokyo.
For more information, please visit http://www.littletokyohs.org/index.html

lthistory . Last modified Nov 25, 2012 9:01 a.m.
---