An Evening with Virgil Westdale: Farmboy, Pilot, Inventor, and WWII Soldier of the 442nd Regimental Combat Team
USC
University Park Campus - Leavey Library (LVL) Auditorium
Los Angeles, California, 90007
United States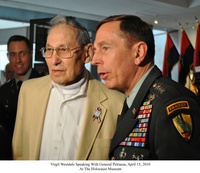 Don't miss out on this unique opportunity to meet Virgil Westdale, WWII Veteran and recipient of the Congressional Gold Medal, and to hear him share his incredible life story!
Join us at:
"An Evening with Virgil Westdale: Farmboy, Pilot, Inventor, and WWII Soldier of the 442nd Regimental Combat Team"
4:30PM on Tuesday, February 12, 2013 at USC!
Click on the link below to RSVP.
http://dornsife.usc.edu/events/site/192/900781/

athenamari . Last modified Feb 01, 2013 12:05 p.m.
---