Day of Remembrance Commemoration
Gardena Valley JCI
1964 W 162nd St
Gardena, California, 90247
United States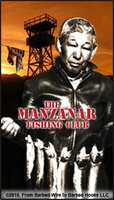 Attachments
One of the filmmakers of The Manzanar Fishing Club , producer/director Cory Shiozaki will visit the JCI to discuss their film and relate it to specific connections in the local community. The speaker will show excerpts from their movie and weave them into a presentation on the issues and history of the Day of Remebrance. Mr. Shiozaki will also moderate a panel of Manzanar fishermen that will discuss their personal stories. DVD's will also be on sale, and the Mr. Shiozaki will be available to sign DVD's.
For more information, please call the JCI office at (310) 324-6611 or email jcibridge@jci-gardena.org.

This a presentation of The Bridge: JCI Heritage Center.

GVJCI . Last modified Feb 15, 2013 2:30 p.m.
---