FILM SCREENING: "Emperor"
UCLA James Bridges Theater
1409 Melnitz Hall
Los Angeles, California, 90095
United States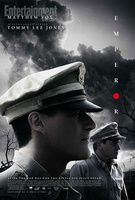 A special screening of the film "Emperor" starring Matthew Fox and Tommy Lee Jones. A panel discussion will follow the screening with Producers Yoko Narahashi and Eugene Nomura, Professor Kal Raustiala, and Professor William Marotti.

View the trailer and RSVP for this screening >>
Co-hosted by the UCLA Burkle Center for International Relations and the UCLA Terasaki Center for Japanese Studies.
ABOUT THE FILM
A gripping tale of love and honor forged between fierce enemies of war, Emperor unfolds the story, inspired by true events, of the bold and secret moves that won the peace in the shadows of postwar Japan. The story of Emperor is based on the resonant, real events of 1945, when General MacArthur took control of a shell-shocked Japan on behalf of the U.S and Bonner Fellers worked covertly to investigate the Emperor's fate while the future of the nation hung in the balance. Entwined with an against-the-odds romance, the story traverses the conflicting loyalties between heart and homeland, between revenge and justice, as the world rebuilds from the ruins of war.
Matthew Fox joins with Academy Award® winner Tommy Lee Jones, newcomer Eriko Hatsune and award-winning Japanese star Toshiyuki Nishida to bring to life the American occupation of Japan in the perilous and unpredictable days just after Emperor Hirohito's World War II surrender. As General Douglas MacArthur (Jones) suddenly finds himself the de facto ruler of a foreign nation, he assigns an expert in Japanese culture – and psychological warfare – General Bonner Fellers (Fox), to covertly investigate the looming question hanging over the country: should the Japanese Emperor, worshiped by his people but accused of war crimes, be punished or saved? Caught between the high-wire political intrigue of his urgent mission and his own impassioned search for the mysterious school teacher (Hatsune) who first drew him to Japan, Fellers can be certain only that the tricky subterfuge about to play out will forever change the history of two nations and his heart.
ABOUT THE PANELISTS
EUGENE NOMURA is a Producer of EMPEROR as well as an actor. His acting career began at the age of fourteen playing the lead in an award winning NHK television drama 'Kizuna' (1987). He then received an acting scholarship to the Lee Strasberg Institute and the Actors' Studio in New York. After returning to Tokyo, Nomura worked on the award winning film '800 Two Lap Runners' (1994) where he was honored with the Kinema Junpo Award and Mainichi Concours Grand Prize for Best Actor. Having worked in over 50 films and 60 major television series in Japan, he also started producing films in 2009. Nomura's producer credits include THE LAUGHING POLICEMAN(2009), TAJOMARU (2009), SURELY SOME DAY (2010), and TOMATO NO SHIZUKU (2011).
KAL RAUSTIALA is Director of the UCLA Burkle Center for International Relations and Associate Vice Provost of the International Institute and International Studies. A professor at UCLA Law School, he holds a joint appointment with the UCLA International Institute, where he teaches in the Program on Global Studies. Professor Raustiala has been a visiting professor at Harvard, Princeton, Columbia, and the University of Chicago, and was a fellow in the Foreign Policy Studies Program at the Brookings Institution. He serves on the editorial boards of International Organization and the American Journal of International Law, and is a life member of the Council on Foreign Relations.
WILLIAM MAROTTI is an Associate Professor at UCLA and teaches modern Japanese history, with an emphasis on everyday life and cultural-historical issues. He is also Chair of the East Asian Studies M.A. Interdepartmental Degree Program. He received his doctorate in 2001 from the University of Chicago's Department of East Asian Civilizations and Cultures, where he worked with Harry Harootunian, Tetsuo Najita, William Sibley, and Moishe Postone.
YOKO NARAHASHI is a Producer of EMPEROR as well as an accomplished actor, an award winning director of stage and screen, a casting director and a lyricist. Narahashi's feature film directorial debut THE WINDS OF GOD won her the Japan Film Critics Award for Best New Director. Narahashi has been a casting director for foreign feature film productions since she worked with Director and Producer Steven Spielberg on EMPIRE OF THE SUN in 1987. More recently, Narahashi was Associate Producer and Casting Director for THE LAST SAMURAI, Casting Director for MEMOIRS OF A GEISHA, BABEL, THE RAMEN GIRL, and most recently 47 RONIN, starring Keanu Reeves and due for release in 2012.

vkm . Last modified Mar 01, 2013 10:47 a.m.
---