2012 internment bus tour slideshow
Nikkei Centre
6688 Southoaks Crescent
Burnaby, British Columbia, V5E 4M7
Canada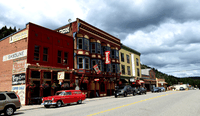 Revisiting Japanese Canadian internment sites in British Columbia

Admission by donation.
Please register here http://centre.nikkeiplace.org/bus-tour-slideshow/

People of Japanese descent living on the B.C. coast were interned from 1942 to 1946. A bus tour revisited these former internment sites around B.C. in June 2012. Nichola Ogiwara from the Nikkei National Museum will present a slideshow and talk about the history and current conditions of some of the sites.
A similar internment bus tour is scheduled to take place June 17-21, 2013.

NNMCC . Last modified Mar 03, 2013 8:45 a.m.
---