BOOKS & CONVERSATIONS: "Strawberry Yellow" by Naomi Hirahara
Japanese American National Museum
100 N Central Ave
Los Angeles, California, 90012
United States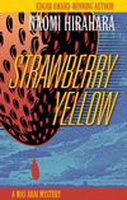 Mas Arai is a taciturn, sometimes even curmudgeonly retired gardener with a past. Born in Watsonville in California's strawberry country, he was raised in Hiroshima, Japan, and as a teenager survived the 1945 A-bomb. After the war, he returned to Watsonville to start over, finding shelter with cousins and work in the strawberry fields.
Now, after moving to Altadena and spending a lifetime as a gardener, Mas returns to Watsonville for the funeral of his second cousin Shug Arai, who'd become a leader in the strawberry-growing world. In no time at all, Mas finds himself at the scene of a murder, and there are Arais involved every which way. Plus he has suspicions that there might have been more behind Shug's death than a simple heart attack. And is the terrible blight called Strawberry Yellow that's threatening the crops somehow involved?
In the fifth and most compelling of the Edgar-winning Mas Arai mysteries, it's up to this quiet, uneducated old man—who considers himself unworthy and finds most other human beings to be exhausting—to unravel the layers of mysteries. He negotiates a complicated web of Arai cousins, deals with decades-old family rivalries, faces a terrifying attempt on his life, and ultimately discovers not just what was behind the two deaths, but why a top-secret new strawberry varietal is named for him—and why it may have inspired murder.
Free with Museum admission. Reservations recommended to rsvp@janm.org or213.625.0414 at least 48 hours prior. www.janm.org

Available for sale at the Museum Store >>

Read our interview with Naomi Hirahara on Discover Nikkei >>

JANM . Last modified Mar 08, 2013 7:40 a.m.
---