Continuing Explorations in Shibori Dyeing with Shibori Girl
Japanese American National Museum
100 N Central Ave
Los Angeles, California, 90012
United States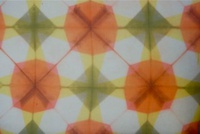 Whether you are new to shibori or continuing your practice, come join us as we continue to find various ways to create pattern and texture on cloth. We will stitch, fold, twist, wrap and roll...fabrics new and old. There will be lots of silks to explore- feel free to bring some of your own.
Glennis Dolce (aka Shibori Girl) will also bring her antique zakuri and give you a demonstration of how silk is reeled from a cocoons she has raised herself.
$35 members; $45 non-members, includes admission. Additionaly $25 material fee (cash only) collected at the beginning of class. RSVP early, 24 students max.
NEW: For all classes, workshops, and food tours, pre-payment is now required to hold your space. Please call 213.625.0414 or download the pre-payment form. Cancellations must be made 48 hours in advance or no refund will be issued.

www.janm.org

JANM . Last modified May 08, 2013 5:05 p.m.
---