Ear to the Ground 2013 at Chen Dance Center
Chen Dance Center
70 Mulberry St, 2nd floor
New York, New York, 10013
United States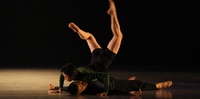 From the Chen Dance Center website :
Ear to the Ground Commissioning Series
Featuring new works by Mana Kawamura & Chia Ying Kao
Each choreographer receives a commission, is given studio space, and is presented in a shared program for 3 evenings:
7:30pm, Wednesday - Friday, April 24-26, 2013
Join us for a Reception after the show on Wednesday evening
Meet the artists for a Discussion after the show on Thursday evening
Tickets: $12 General, $10 Students/Seniors
Reservations are Required as seating is limited. Call 212.349.0438

APA_Institute . Last modified Apr 26, 2013 9:17 a.m.
---