Discover Nikkei Meet-Up in Seattle
Sheraton Seattle Hotel
1400 6th Ave
Seattle, Washington, 98101
United States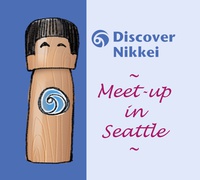 Come meet Discover Nikkei staff, project partners, authors, and others in an informal setting to meet and get to know members of Discover Nikkei's online community.
Our meet-up will be in conjunction with JANM's National Conference at the Sheraton Seattle Hotel from July 4-7, 2013 (http://www.janm.org/conference2013) .

We will be providing light refreshments so would appreciate RSVPs, even if it's a "maybe"
You do not have to be registered for the conference to attend this meet-up. If you have any questions or would like to be added to the guest list, contact us at editor@discovernikkei.org .

LOCATION: Sheraton Seattle Hotel
ROOM: Ravenna AB located on the 3rd floor. Will be near the Expo area of the conference.

editor . Last modified Jul 02, 2013 11:53 a.m.
---