Apart from You, a Japanese silent film classic
Crocker Art Museum
216 O Street
Sacramento, California, 95814
United States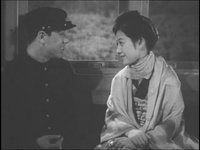 The Sacramento Japanese Film Festival (SJFF) presents Apart from You (Kimi to wakarete), a 1933 Japanese silent film classic on August 8 at 5:30 pm.

SJFF is presenting Apart from You as a part of the Crocker Art Museum's Art Mix/Big in Japan. Admission to the Art Mix includes admission to all Art Mix events. Please visit the Crocker Art Museum website for a listing and times of all events.
Crocker Art Museum Art Mix/Big In Japan
Sacramento Japanese Film Festival .

Ben_Ari . Last modified Aug 03, 2013 9:40 a.m.
---