XVII COPANI (Convención Panamericana Nikkei)
InterContinental
Buenos Aires, Buenos Aires
Argentina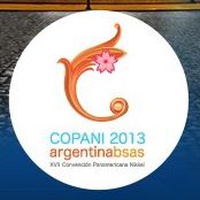 Being held since 1981, the Nikkei Pan-American Convention (COPANI) Is the most important Pan-Amercan Nikkei event.
It is a meeting point for Nikkeis from the Americas and Japan where they can exchange experiences, learn each other and above all, create friendship bonds beyond frontiers.
LOCATION:
InterContinental Buenos Aires, Argentina
DATE:
September 12-14, 2013
LANGUAGES:
Spanish, English, and Japanese
TOPIC:
Nikkei 3.0: Leading the Change
For more information:
http://www.copani2013.com/
https://www.facebook.com/copani2013

yn . Last modified Jul 12, 2013 10:58 a.m.
---