3rd Annual Nikkei Fall Harvest Fair
Nikkei National Museum & Cultural Centre
6688 Southoaks Crescent (corner of Kingsway & Sperling)
Burnaby, British Columbia, V5E 4M7
Canada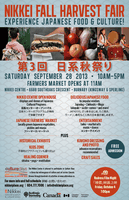 Come celebrate the arrival of autumn at the Third Annual Nikkei Fall Harvest Fair!
Join us for a lively "O-matsuri" festival with loads of exciting demos and performances, a popular farmer's market selling hard-to-find Japanese produce, mouth-watering food stands by various local vendors including Zakkushi and Japadog, an activity-packed kids zone, and even professional kimono dressing! Bring your family and friends – there's something for everyone!
This festive day includes a Japanese Farmers' Market, Open House and Fall o-Matsuri (festival). Come enjoy the best of a Japanese Night Market during the day! Fun for all ages.
Admission: Free! (donations gratefully accepted)
Free underground and street parking
Open House: 10 am – 5 pm
Showcasing various Nikkei Centre programs (including martial arts, healing arts, sushi class and more), and lots of delicious Japanese food, exciting entertainment, kids' activities and more!
Featuring:
Foods: JAPADOG, Zakkushi charcoal grill, MOGU, Sushi, Takoyaki, Ramen, Japanese sweets and more!
Entertainment: Japanese Dance, Taiko, Martial arts, Shamisen, Hawaiian Dance, J-pop etc.
Free Program Demos: Tea ceremony, Sushi cooking, Yoga, Igo, Math, etc.
* Professional Kimono Dressing & Photo Opportunities ($20/person, $50/family of up to 4 members, advance reservations required)
* Shiatsu Massage at discounted rates (10 mins for $10, 20 mins for $18, 30 mins for $25)
* Kids Zone with lots of activities
* Historical Exhibits
* Craft Sale
Farmers' Market: 11 am – 3 pm
Yasaimono (vegetables – kabocha, kabu, kyuri, nasu, daikon, napa, and others) along with a variety of delicious Japanese foods, baked goods, umeboshi (pickled plums), tsukemono (pickled vegetables), and manju (sweet bean paste bun).
The Nikkei Centre is pleased to participate in Culture Days - a three day extravaganza of culture and art across Canada. Browse through hundreds of activities at www.culturedays.ca
Special thanks to the Building Communities Through Arts and Heritage program of Canadian Heritage and Festivals Burnaby Grant Program for their support of this event.


NNMCC . Last modified Aug 28, 2013 6:23 p.m.
---