Kiku: the Art of the Japanese Garden
New York Botanical Garden
Bronx River Pkwy
New York, New York, 10458
United States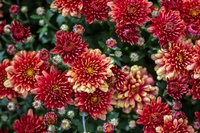 Time Out says ...
New Yorkers are singularly focused on leaves this time of year, but in Japan, fall is chrysanthemum-appreciation season. Gawk at multicolored blossoms trained to grow into a bridge, cascade or wall formation at this three-week display, and single stems that have been manipulated to produce hundreds of flowers at once. The closing weekend features a special bonsai exhibit (Oct 26, 27) and poetry reading with Jane Hirschfield (Oct 27 at 2pm); throughout the month you can also catch traditional Japanese taiko drumming (Sat, Sun 1, 3pm) and sip sake at a pop-up restaurant (Fri–Sun).
$20–$25, seniors and students $18–$22, children 2–12 $8–$10, children under 2 free. Grounds only $13, seniors $6, students $5, children 2–12 $3, children under 2 free; Wed 10am–6pm, Sat 9–10am free.
A full program and tickets are available on the New York Botanical Garden website .

APA_Institute . Last modified Oct 17, 2013 1:11 p.m.
---