Japanema Free Film Screening: ALWAYS – Sunset on Third Street - 3
Japan Foundation, Los Angeles
Wilshire Courtyard Suite 100, 5700 Wilshire Blvd.
Los Angeles, California, 90036
United States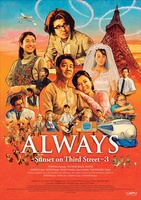 Japan Foundation Los Angeles screens a Japanese film every second and fourth Wednesday in our auditorium room on Miracle Mile. On October 23 at 7pm, we will be showing "ALWAYS – Sunset on Third Street - 3" (2012).
For more information, please visit: http://www.jflalc.org/japanema-schedule.html
SYNOPSIS:
The year is 1964 and Tokyo is awash in the excitement of the Olympics coming to their city. The people of Third Street carry on with their lives, as colorful and vibrant as ever. Desperate authors, burgeoning romances, and genuine bonds between friends and family come together in this heart-warming and heart-wrenching story.
Photo: (C) 2012 "Always3" Film Partners

JapanFoundationLA . Last modified Oct 09, 2013 1:12 p.m.
---