Looking After Minidoka, with Neil Nakadate
Oregon Nikkei Legacy Center
121 NW 2nd Avenue
Portland, Oregon, 97209
United States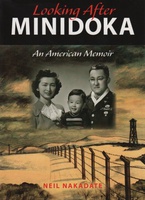 Looking After Minidoka: An American Memoir
A Reading and Conversation with Neil Nakadate
Saturday, November 30, 2013, 1:30pm
at the Oregon Nikkei Legacy Center
Neil Nakadate will read from and discuss his memoir of three generations of his Portland family – a gathering of history, memories, and family stories that reflect Japanese American experience from immigration through the 20th century, from early years in the Alphabet District to the post-war recovery. The removal and incarceration during World War II serve as reference points for what came before and after, as does the military service of Nisei soldiers.
Copies of Looking After Minidoka will be available for sale. The reading will be followed by a book signing by the author.
Oregon Nikkei Legacy Center
121 NW 2nd Ave
Portland, OR 97209
503-224-1458
www.oregonnikkei.org

Oregon_Nikkei . Last modified Nov 19, 2013 4:20 p.m.
---