Power of the Commission Hearings
Katy Geissert Civic Center Library
3301 Torrance Bl.
Torrance, California, 90503
United States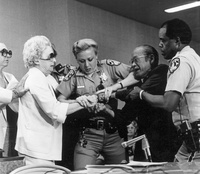 "Power of the Commission Hearings: First Person Voices of Japanese American Incarceration" sponsored by the Japanese American Historical Society of Southern California, Visual Communications, Nikkei for Civil Rights & Redress, and the Torrance Public Library on Saturday, May 3, 1 to 3 pm, at the Katy Geisseert Civic Center Library.
In 1981 Japanese Americans spoke out for redress at the Commission on Wartime Relocation and Internment of Civilians (CWRIC) hearings across the country. The Los Angeles hearing was one of the few that was videotaped. Preserved by the Nikkei for Civil Rights & Redress (NCRR) and Visual Communications (VC), these testimonies galvanized a grassroots campaign for redress, resulting in the signing of the Civil Liberties Act of 1988, authorizing $20,000 and an apology. Panelists from both NCRR and testifiers from the South Bay will share insights from the hearings and the impact it had on their lives and the community. Excerpts from the hearings will be shown with special attention to South Bay testimonies.

JAHSSC . Last modified Mar 07, 2014 5:43 p.m.
---