Shibori Workshop
Gardena Valley JCI
1964 W 162nd St
Gardena, California, 90247
United States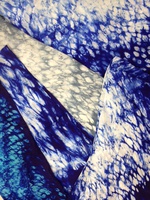 Attachments
Shibori is the ancient Japanese art of cloth dyeing. It refers to several techniques that are used to dye patterns onto cloth. 
Among these techniques are tying with string, stitching a pattern, or clamping the folded cloth with wooden blocks.  Master artist, Setsuko Hayashi, will join us on May 18th at 1:00 PM in the GVJCI Nisei Veterans Hall to lead another of her popular workshops.
The students will be working with a silk scarf at this workshop will use an indigo dye from Japan called aizome.  She will teach students to create a unique pattern on their scarves that looks like the feathers of a peacock. Workshop fees are $25 per person.  To register, please call the GVJCI office at (310) 324- 6611, or email: info@jci-gardena.org

Space is limited, so reserve your spot in this popular workshop early!

GVJCI . Last modified Feb 07, 2023 10:45 p.m.
---