Pre-order JAMsj's New Publication:San Jose Japantown
Japanese American Museum of San Jose
535 North Fifth Street
San Jose, California, 95112
United States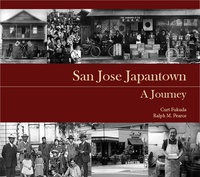 The definitive new book on the rich history (1800's-2010) of San Jose's Japantown is coming soon!
Published by JAMsj, San Jose Japantown, A Journey is a beautiful hardbound book, has 300 pages, and features full-color photos. Make sure you pre-order from JAMsj before July 31st and save 20% off the retail price.
Cost is $43.50 plus $10 shipping.
Pre-orders are available through July 31, 2014. Delivery of the book is scheduled for November 2014.
For more information, please call JAMsj at 408-294-3138 or email to eva@jamsj.org
Japanese American Museum of San Jose (JAMsj), 535 North 5th Street, San Jose, CA 95112

JAMsj . Last modified Jun 01, 2014 8:15 a.m.
---