KIMONO & JAPANESE GIFTS XMAS SALE
NIKKEI CENTRE
6688 SOUTHOAKS CRES
BURNABY, British Columbia, V5E4M7
Canada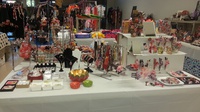 Kimono & Japanese Gifts XMAS Sale
Dec.13 Sat, 11am-4pm
At Nikkei Center, 6688 Southoaks cres, Burnaby (Kingsway x Sperling)
Items for sale include kimono, haori, yukata, obi, geta, tabi, scarves, hair accessories, coin purses, key chain charms, handbags, gift items, jewelry etc.
Free admission, free parking.
Sale will take place in a room on the ground floor. (not a craft fair or a market)
Partial proceeds will be donated towards Japan Tsunami relief.
For more info, call Pac West at 604-736-0966 or email kimono@pacwestie.com

wapac2 . Last modified Nov 19, 2014 10:55 p.m.
---