Mingei: Japan's Enduring Folk Arts
Nikkei National Museum & Cultural Centre
6688 Southoaks Crescent
Burnaby, British Columbia, V5E 4M7
Canada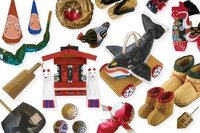 Mingei refers to "hand-crafted art of ordinary people." It celebrates the beauty and quiet humility in everyday, ordinary and utilitarian objects created by often unknown craftsmen. This exhibit includes over 100 works from throughout Japan: charming items of daily use made of wood, bamboo, paper, straw, shell, lacquers, clay, metal, stone, and other materials.
http://centre.nikkeiplace.org/mingei-exhibit/
Mingei Public Programs are free and open to the public.
Saturday, June 27, 3-5pm, Artist Talk + Opening Celebration with Amaury Sait-Gilles
Saturday, July 26, 12-4pm, Make Your Own Mingei Family Day
Saturday, September 12, 3pm, The Tales of Mingei: folklore behind the folk art with Dr. Jan Walls
Saturday, September 26, 12-4pm, Culture Days, Make Your Own Mingei & Mikoshi Talk

NNMCC . Last modified May 28, 2015 12:19 p.m.
---