INFO SESSION: Worldwide Okinawa Festival 2016 (Sekai no Uchinaanchu Taikai)
Okinawa Association of America (OAA)
16500 South Western Avenue, Suite #103
Gardena, California, 90247
United States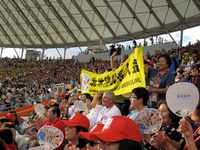 Okinawan community begins preparation for 2016 homeland visit
On Sunday, November 8th, 4:00 PM, the Okinawa Association of America (OAA) in Gardena will be hosting their first information session for the 6th Worldwide Uchinaanchu Festival (Sekai no Uchinaanchu Taikai) in 2016. Established in 1990, the Taikai is hosted by the Okinawa Prefectural Government (OPG) every five years and serves as a "homecoming" for the descendants of Okinawan immigrants. The 2016 Taikai event will take place from October 26 to October 30.
In 2011, a record 5,000+ participants from the Okinawan diaspora around the world converged at the 5th Worldwide Uchinaanchu Festival with representatives from Argentina to Zimbabwe. An opportunity for Okinawan communities to deepen the understanding of their roots, as well as strengthen international relations, many Festival goers plan family and group vacations to experience this unique gathering where the OPG plans an extensive range of activities for the overseas Okinawan communities: from official ceremonies in a sports stadium to outdoor and theater performances; cultural exchanges to leadership symposiums addressing relevant issues; and even tournaments featuring Okinawan karate to eisaa drumming.
The Uchinaanchu Taikai is unique in that it is the only festival of its kind in Japan. Okinawa Prefecture was once the independent Ryukyu Kingdom and that sense of identity has remained strong among Okinawan natives and Okinawans who immigrated over 100 years ago.
The OAA-hosted session on November 8th will explain the background of the Taikai (including videos from the 2011 festival) and what to expect. Past participants will give short presentations about their experiences. OAA will hold a series of info sessions in 2016 for those interested in attending. Although the OAA will not be handling travel arrangements, general knowledge and suggestions will be shared over the course of those info sessions.
The OAA is located at 16500 South Western Avenue, Gardena 90247 (the event will take place in the OAA's Room 103, located in the glass office building). Limited seating and parking. Please contact the OAA for more information: 310-532-1929, oaamensore@gmail.com


josephkamiya . Last modified Oct 26, 2015 11:40 a.m.
---