Exhibit: "Uprooted"
Oregon Nikkei Legacy Center
121 NW 2nd Avenue
Portland, Oregon, 97209
United States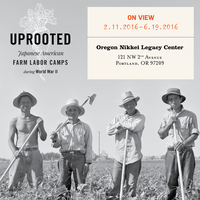 Uprooted: Japanese American Farm Labor Camps during World War II
February 11 — June 19, 2016
at the Oregon Nikkei Legacy Center
www.oregonnikkei.org
During the forced removal and incarceration of Japanese Americans, some 33,000 individual contracts were issued for seasonal farm labor, with many Nikkei working in the sugar beet industry. Uprooted: Japanese American Farm Labor Camps During World War II introduces their story.
The exhibit features a selection of images from federal photographer Russell Lee's documentation of Japanese American farm labor camps near the towns of Nyssa, Oregon, and Rupert, Shelley, and Twin Falls in Idaho. Visitors will learn about the farm labor camps through Lee's photographs, interpretative text panels, and a short documentary film featuring firsthand accounts about life in the camps.


Oregon_Nikkei . Last modified Mar 03, 2016 12:27 p.m.
---