INFO SESSION: Worldwide Okinawa Festival 2016 (Sekai no Uchinaanchu Taikai)
Okinawa Association of America (OAA)
16500 South Western Avenue
Gardena, California, 90247
United States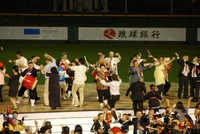 On Saturday, February 20th, 2:00 PM, the Okinawa Association of America (OAA) in Gardena will be hosting their second information session for the 6th Worldwide Uchinanchu Festival (Sekai Uchinanchu Taikai) in Okinawa, Japan. Established in 1990, the Taikai is hosted by the Okinawa Prefectural Government (OPG) every five years and serves as a "homecoming" for the descendants of Okinawan immigrants. The 6th Taikai will take place from October 26th through 30th in Naha City.
Topics at the February 20th information session will include an updated schedule of events and a Q&A with past Taikai attendees. Local travel agencies catering to this event will be present to promote their Taikai travel packages and answer any travel-related questions.
The Uchinanchu Taikai is unique in that it is the only festival of its kind in Japan. Okinawa Prefecture was once the independent Ryukyu Kingdom and that sense of identity has remained strong among Okinawan natives and Okinawans who emigrated over 100 years ago. At the 5th Taikai in 2011, a record 5,000+ participants from the Okinawan diaspora converged in Okinawa with representatives from Argentina to Zimbabwe.
The OAA is located at 16500 South Western Avenue, Gardena 90247 (the event will take place in the OAA's Yamauchi Building). RSVP is requested due to limited seating and parking. Please contact the OAA for more information: 310-532-1929, oaamensore@gmail.com

josephkamiya . Last modified Feb 04, 2016 1:09 p.m.
---