Ryūkyū Cuisine with Master Chef Ayaka Yamamoto (from Japan)
Okinawa Association of America (OAA)
16500 South Western Avenue
Gardena, California, 90247
United States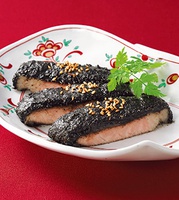 On Monday, March 14th, 7:30 PM, the Okinawa Association of America (OAA) in Gardena will host a talk about Ryūkyūan cuisine (Japanese with English translation). The event will also include a sampling of one royal court dish (kyūtei ryōri) and two traditional common dishes (shomin ryōri). RSVP is required.
Master chef Ayaka Yamamoto from Okinawa will be leading the presentation. At 80 years old, Ms. Yamamoto continues to teach traditional Ryūkyūan cuisine in Okinawa and abroad, serving as a great example of longevity among Okinawan elders.
"It is a pity that the true form of Ryūkyū cuisine is being forgotten now," Ms. Yamamoto told The Asahi Shimbun in 2015. "I wish to pass on the old wisdom to future generations."
Audience members will have an opportunity to taste test "minudaru" (steamed pork with sesame seed), "fu champuru" (stir fry with wheat gluten), and "sōmen champuru" (stir fry with wheat flour noodles). One of the key features of traditional Ryūkyūan cooking is the absence of artificial ingredients.
There will be a limited supply of Aguni Island sea salt (rich in minerals and low in sodium chloride) and nigari (brine from Okinawan seawater) for sale. All proceeds benefit the OAA and OAA Fujin-bu (Women's Association).
Admission is free for current OAA members and $5 for the public. RSVP is required: oaamensore@gmail.com or 310-532-1929. The OAA is located at 16500 S. Western Ave., Gardena 90247 and the event will take place in the Yamauchi Building.
---
Image: "Minudaru," steamed pork with sesame seed (source)

josephkamiya . Last modified Mar 07, 2016 3:29 p.m.
---