Arts & Crafts from Gifu, The Heartland of Japan
Japan Society
333 East 47th Street
New York, New York, 10017
United States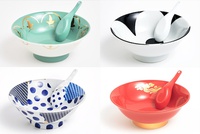 EXHIBITION
Thurs., Sept. 8—Sat., Sept. 17 (excluding Sept. 10 & 11)
At this free exhibition, experience the arts and crafts that embody the spirit of Gifu prefecture, an area renowned for its long tradition of expert craftsmanship. The exhibition will feature stunning examples of ceramic wares from Mino, a historic center of pottery production that continues to produce vibrant works today.
Part of Get to Know Japan Series: Gifu Prefecture.
Free admission.

japansociety . Last modified Aug 03, 2016 10:58 a.m.
---