About Kazuo Ohno—Reliving the Butoh Diva's Masterpieces
Japan Society
333 East 47th Street
New York, NY 10017
New York, New York, 10017
United States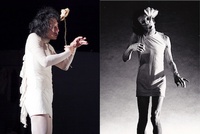 Takao Kawaguchi, one of Japan's most sought-after dancers and former member of Dumb Type, challenged himself to literally "copy" the dances of the late butoh master and co-founder Kazuo Ohno, from archival recordings. What results is a hauntingly beautiful illusory duet between Kawaguchi and Ohno. Presented just weeks before what would have been Ohno's 110th birthday, About Kazuo Ohno attempts to reconstruct Ohno's timeless masterpieces, including Admiring La Argentina (1977) and My Mother (1981), phrase by phrase. This work offers the opportunity to explore and question the portrayal of gender, specifically femininity, that appears within Ohno's repertoire.
As a companion piece within this program highlighting the reinterpretation of butoh by non-butoh specific artists in the 21st century, New York's Big Dance Theater presents Resplendent Shimmering Topaz Waterfall, a choreographic exploration of the notations of a work by another butoh legend, Tatsumi Hijikata.
Fri., Sept. 16, 7:30 PM (Followed by a MetLife Meet-the-Artists Reception)
Sat., Sept. 17, 7:30 PM

Tickets: $30 /$25 Japan Society members. General Admission.
http://www.japansociety.org/event/about-kazuo-ohnoreliving-the-butoh-divas-masterpieces

APA_Institute . Last modified Sep 09, 2016 12:24 p.m.
---