Cinema Kabuki: ONE PIECE
TCL Chinese 6 Theatres
Hollywood & Highland, 6801 Hollywood Blvd,
Hollywood, California, 90028
United States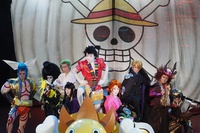 *Parking will be scarce due to that evening's Christmas Parade on Hollywood Blvd. Expect street closures. There is a metro station right next to the theatre (Hollywood/Highland).
**Audience members who reserve a seat in advance will be let into the theatre first. Five minutes before the screening starts, walk-ins will be allowed into the theatre. We can only guarantee your seat if you reserve a spot and arrive at least 5 minutes early .
Admission: FREE
Click HERE to reserve 10AM Screening

Click HERE to reserve 1:30PM Screening
What is Kabuki?
The all-male kabuki theater has existed for more than 400 years, and it remains Japan's most popular form of theater. The genre combines dance, music, dynamic action, and picturesque poses. Kabuki has created urban heroes, legendary characters, iconic courtesans, princesses - and a whole culture of stardom.
What is Cinema Kabuki?
Since 2005, Kabuki production company Shochiku Co. Ltd. has released Cinema Kabuki which offers English speakers the unique opportunity to experience full-scale Kabuki performances by some of Japan's biggest stars in high definition on the big screen with English subtitles. This, however, is no regular film screening; Cinema Kabuki allows the audience to vividly experience the excitement of the live stage through the full use and wide-range capability of high-definition (HD) images and 6-channel sound. Enjoy the authenticity of Kabuki as if you were sitting in the best seat of the Metropolitan Opera House!
What is Cinema Kabuki "ONE PIECE"?
"ONE PIECE" is Japan's top-selling manga of all time, and one of its most beloved. This high fantasy saga is about a super-powered young man who travels as a pirate from island to island on an ocean planet. His pirate crew is as lovable as it is eccentric, and the story will make you laugh and cry.
Cinema Kabuki "ONE PIECE " introduces kabuki theatre to a new generation. The play showcases elements of traditional kabuki: acting style, classical language, set design, costume elements, and more. The plot is from a specific "ONE PIECE" storyline that happens in the middle of the long saga – The Paramount War. It covers volumes 51 to 60 of the manga and episodes 457 to 489 of the anime.
"ONE PIECE" fans are highly encouraged to attend. Eiichiro Oda, creator of One Piece himself publically stated, "☆ IT WAS TOO SPECTACULAR ☆ I didn't want to leave the kabuki theatre!! …Everyone, YOU SHOULD SEE IT !!!"
Audience members unfamiliar with "ONE PIECE" may struggle to follow the story, but will enjoy the spectacle enormously!
COSPLAY CONTEST:
Please come wearing your favorite "ONE PIECE" cosplay! Outside the theatre there will be a COSPLAY CORNER with Monkey.D.Luffy, Roronoa.Zoro, Trafalgar Law, Tony Tony.Chopper, Portgas.D.Ace and marine cosplay pieces that you can try on. Take a selfie in front of our special Japan Foundation backdrop, upload it to twitter with the hashtag #onepiecekabuki, and the most popular photo will win ALL of our cosplay pieces! There will also be professional One Piece cosplayers with whom you can take photos!!
We encourage you to read "ONE PIECE" before coming to see One Piece Kabuki! Luckily, the Japan Foundation, Los Angeles free library has the entire series in both English and Japanese! Come check them out during our library hours.


JapanFoundationLA . Last modified Nov 04, 2016 4:19 p.m.
---