Author Discussion—"Hiroshima Boy" by Naomi Hirahara
Japanese American National Museum
100 North Central Avenue
Los Angeles, California, 90012
United States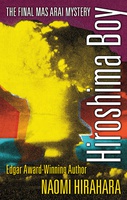 The latest and final installment in the Mas Arai series finds the curmudgeonly detective returning to Hiroshima to bring his best friend's ashes to a relative. However, Mas quickly becomes embroiled in the mysterious death of a teenage boy, who was about the same age he was when he survived the atomic bomb in 1945.
Join award-winning author Naomi Hirahara for a reading and discussion.
Included with museum admission. RSVPs are recommended.
In the Tateuchi Democracy Forum

Hiroshima Boy will be available at the JANM Store. Visit janmstore.com to purchase copies of the other books in the Mas Arai series.
Check janm.org for updates.

JANM . Last modified Feb 24, 2018 5:51 p.m.
---