Skype Video Talk: Gus Hokama, Musician from Argentina
Okinawa Association of America (OAA)
16500 S. Western Ave.
(Room 103 in the office building)
Gardena, California, 90247
United States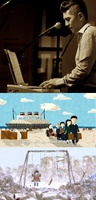 OAA Nuchāshii Potluck Gathering
Last Thursday's of every month!
April 26, 2018 (Thursday)
7:00 - 9:00 p.m.
Free admission with a potluck dish
RSVP is not required, but appreciated:
310-532-1929, oaamensore@gmail.com
(Note: Since Argentina is 4 hours ahead of us, we kindly ask for everyone to arrive as close to 7 p.m. as possible so we can begin the presentation on time. Thank you for your cooperation.)
This month, we will be doing a Skype video chat with a special guest from Argentina! Gus Hokama is an Uchinaanchu sansei (third-generation Okinawan descendant) from Buenos Aires, Argentina. He is a musician who has performed in Argentina, Brazil, Peru, and Japan. After performing in Okinawa for the first time during the 2016 Worldwide Uchinaanchu Festival/Taikai, he returned in December 2017 and January 2018 for a mini tour to promote his debut Japanese album, titled "時空の花 (Jikuu no Hana)."
Hokama will talk about the Okinawan community in Argentina, his family, and his experiences in Okinawa. His presentation will be followed by a screening of a few of his music videos.
Participants will have a chance to win a signed copy of Hokama's debut album and to taste alfajores, a confection from Argentina (minimum supply; first come, first served)!
Bring your favorite dishes (homemade or bought - no judgment!) - we'll provide the paper goods, water and coffee.
(Note: This presentation will be made via Skype video, not in person)

---
Listen to Gus Hokama's music:
iTunes
Google Play
YouTube

---

Click here to read Spanish and Japanese language articles about Gus:
http://www.discovernikkei.org/es/journal/2017/7/19/gus-hokama/
http://www.discovernikkei.org/ja/journal/2017/7/19/gus-hokama/

josephkamiya . Last modified Apr 12, 2018 2:38 p.m.
---