Summer Manga Camp
Nikkei National Museum and Cultural Centre
6688 Southoaks Crescent
Burnaby, British Columbia, V5E 4M7
Canada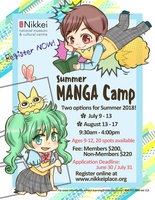 Join us at Manga Summer Day Camp where we have a fun week of activities to immerse all manga enthusiasts in Japanese Canadian arts and culture. There will be a lineup of workshops by local Vancouver comic artists who will share their knowledge of illustration, storytelling, and design to help kids create their own comic booklet to take home!
For more information, and to sign up, visit us at http://centre.nikkeiplace.org/kids-camps/

NNMCC . Last modified May 29, 2018 9:16 a.m.
---