Palo Alto Buddhist Temple Obon Festival
Palo Alto Buddhist Temple
2751 Louis Road
Palo Alto, California, 94303
United States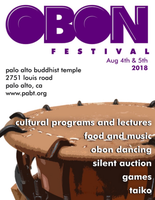 Obon Festivals happen during summer, and they celebrate life, death, and community. It is an important part of Japanese culture, and they typically include dancing, taiko, food, games, and much more. It is a great family event.
Saturday: 5:00pm - 9:30pm
5:00pm Taiko
5:30pm Buddhist Talk and Discussion
6:30pm Burmese Dancing
7:30pm Koto Performance
9:00pm Judo Demonstration
Sunday: 12:00pm - 9:30pm
12:00pm Taiko
12:30pm Buddhist Talk and Discussion
12:30 - 3:30pm Children's activities
1:00 pm About Yukata Dressing and More
1:30pm Taiko
2:30pm Koto Performance
3:30pm Kendo Demonstration
6:45pm Raffle Drawing
7:00pm Bon Odori Service
7:30pm Dancing
Please visit Palo Alto Buddhist Temple's website for more information.

kmatsuno . Last modified Jun 27, 2018 5:33 p.m.
---