Obon Festival - Waialua Hongwanji
Waialua Hongwanji Mission
67-313 Kealohanui St
Waialua, Hawaii, 96791
United States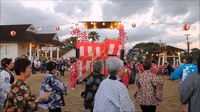 Save the date for Waialua Hongwanji's 2018 obon festival! Join the community in eating, dancing, and fun at obon, a celebration of Japanese traditions, heritage, and religion. Bring the family to enjoy this summer festival in remembrance of those loved ones who have passed.
Saturday, 8/4 - 7:00 p.m.; service: 6:00 p.m.
Phone: (808) 637-4395

daniyang8 . Last modified Jul 12, 2018 10:32 a.m.
---