Obon Festival - Hilo Higashi Hongwanji Mission
Hilo Higashi Hongwanji Mission
216 Mohouli St
Hilo, Hawaii, 96720
United States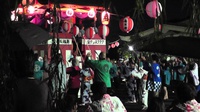 Join Hilo Higashi Hongwanji Mission for its 2018 obon festival, a time to honor the ancestors! Come to eat and dance the night away at this Japanese summer festival. All are welcome, and don't forget to bring the keiki!
Saturday, 8/11 - 6:30 p.m.
Phone: (808) 935-8968

daniyang8 . Last modified Jul 17, 2018 10:37 a.m.
---