Akiko Yano + Seiho Unusual Pairings
Japan Society
333 East 47th Street
New York, NY 10017, New York, 10017
United States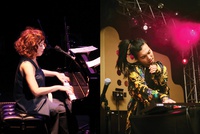 Beloved pianist/singer-songwriter Akiko Yano returns to Japan Society for a U.S. premiere collaboration with rising Osaka-based electronic sound artist/DJ and ikebana enthusiast Seiho. This one-of-a-kind concert mixes the singular stylings of Yano's piano and singing with Seiho's thumping, atmospheric beats, and flower arranging! Join us on this moody trip into the soundscapes of these two formidable artists as their music melds, merges and even takes shape in floral form.

Tickets: $38/$30 members
Tickets can be purchased online, or by visiting/calling the Box Office at (212) 715-1258.
For more information, please see the event page here.

APA_Institute . Last modified Oct 11, 2018 12:29 p.m.
---