Author Discussion—"American Sutra" by Duncan Williams
Japanese American National Museum
100 N. Central Ave.
Los Angeles, California, 90012
United States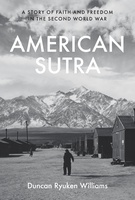 FREE
Duncan Ryuken Williams, a Soto Zen Buddhist priest and Director of the USC Shinso Ito Center for Japanese Religions and Culture, will speak about his new book, American Sutra: A Story of Faith and Freedom During the Second World War (Harvard University Press, February 2019), about the Japanese American Buddhist experience in the WWII incarceration camps.
Williams will explore questions of faith, identity, and resilience in the face of dislocation, loss, and uncertainty. He will also focus on the importance of upholding bedrock American values—religious freedom, tolerance, social and racial justice, and civil liberties—in our historical moment. His presentation will be followed by comments and discussion with Brian Niiya (Content Director, Densho), Naomi Hirahara (award-winning author and historian), and Valerie Matsumoto (UCLA Aratani Chair on the Japanese American Incarceration, Redress, and Community).
Reception and book signing will follow. This program is free, but RSVPs are recommended using the link below.
Click here for updates and to RSVP.
Presented in partnership with USC Shinso Ito Center for Japanese Religions and Culture.

JANM . Last modified Jan 31, 2019 12:54 p.m.
---