Topaz Stories Exhibit
J-Sei Community Center
1285 66th Street
Emeryville, California, 94608
United States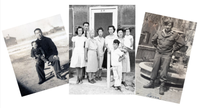 Friends of Topaz is proud to present "Topaz Stories: 50 stories from the Japanese-American Incarceration," over 50 stories from Topaz survivors and their descendants. The stories, gathered over the past two years, span three generations, and provide personal glimpses into the WWII forced removal, incarceration, and resettlement of more than 120,000 people on the basis of their ancestry. Over 11,000 were incarcerated in the Topaz concentration camp in the Utah desert.
"In this political climate, it's especially important to preserve and share these stories," says author Ruth Sasaki, who edited the collection. "History is repeating itself. We must remind those who have forgotten and teach those who don't know of the human consequences of injustice."
The exhibit will run through September 30 at the J-Sei Community Center, 1285 - 66th Street, Emeryville, CA. Gallery hours are Monday through Friday, 2 - 5 pm and by appointment. Small groups can request a docent.
Contact Jill Shiraki (J-Sei Education Coordinator)
Email: jill@j-sei.org
Phone: (510)654-4000, ext. 19

rasasaki . Last modified Jul 04, 2019 10:38 a.m.
---