Korea-Japan Relations & the U.S. Role
The Korea Society
350 Madison Avenue, 24th Floor
New York, New York, 10017
United States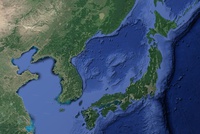 Council on Foreign Relations Senior Fellow Sheila Smith joins Korea Society Chairman Ambassador Thomas Hubbard for a discussion on the recent challenges to Korea-Japan relations posed by the dispute over Japanese export controls. Amid the growing discord, Smith and Hubbard weigh in on possible offramps and paths forward, as well as the nature of the US role in facilitating discussion among its two Northeast Asia allies.
Japan Society Corporate Members: Free, up to designated number of tickets; additional tickets $15. (To register, please contact the Business & Policy Program via phone at 212-715-1208 or email register@japansociety.org.)
Japan Society Individual Members: $10 (Please call the Business & Policy Program to receive the discount code.)
Non-members: $25 (Please register on the Korea Society website.)

Seating is available on a first come, first served basis.

JSBizPol . Last modified Sep 04, 2019 12:56 p.m.
---