Bunka no Hi
Japanese Cultural & Community Center of WA
1414 S. Weller St
Seattle, Washington, 98144
United States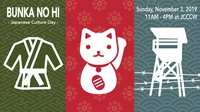 An annual free event celebrating Japanese and Japanese-American culture. This year, JCCCW proudly presents two exhibits, an exhibit of numerous and unique good luck symbols of Japan and an exhibit of now and then photos of the Minidoka Internment Camp. The event also includes martial arts demonstrations, tea ceremony, taiko, storytelling, craft making, food vendors and more.
Check online for updates at https://www.jcccw.org/bunka-no-hi

ArisaN . Last modified Sep 20, 2019 11:44 a.m.
---