Fusion band from Okinawa - Benefit Concert for Shuri Castle Restoration
Fruit of the Spirit Lutheran Church / Christ the King Lutheran Church
2706 W. 182nd St.
Torrance, California, 90504
United States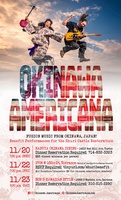 An east-west fusion duo from Okinawa, Japan – aptly named Okinawa Americana – will be visiting Los Angeles for a string of performances! They have generously agreed to participate in this November 22 special mini-concert benfeit for the restoration of Okinawa's symbolic and sacred Shuri Castle 首里城 ("Sui Gushiku" in the native Okinawan language).
NOVEMBER 22 (FRIDAY), 7:30 P.M.
2706 W. 182nd St., Torrance, CA 90504
(Fruit of the Spirit Lutheran Church; this is a non-religious event)
RESERVATION REQUIRED BY NOVEMBER 20 (CLICK HERE)
ADMISSION/DONATION:
$10 General Public
$5 Okinawa Association of America (OAA) members
Read about the Shuri Castle fire:
https://japantimes.co.jp/news/2019/10/31/national/shuri-castle-fire
Donate online – Hawaii United Okinawa Association:
https://gofundme.com/f/shuri-castle-fire-restoration
Listen to a sample of Okinawa Americana's music:
https://www.youtube.com/watch?v=nMNv_gaodXM
(The band will have CDs and t-shirts for sale to help cover their travel expenses)
---

MORE PERFORMANCES:

Habuya Okinawa Dining on November 20, 7:30 p.m.
14215 Red Hill Ave, Tustin, CA 92780
Dinner reservation required: (714) 832-3323
Minimum $25 dinner charge per person
Bob's Hawaiian Style Restaurant on November 23, 6:30 p.m.
15926 S Western Ave, Gardena, CA 90247
Dinner reservation required: (310) 515-2250

josephkamiya . Last modified Nov 06, 2019 4:57 p.m.
---