Japan's Indo-Pacific Strategy in the Emerging U.S.-China Rivalry
Japan Society
333 East 47th Street
New York, New York, 10017
United States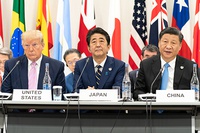 Japan has been initiating the Open and Free Indo-Pacific Strategy (FOIP) in the time of U.S.-China rivalry. While the U.S. is an indispensable ally with whom Japan shares core values and vital strategic interests, China has been Japan's largest trading partner for a decade. Under President Donald Trump, the U.S. government has presented a tougher stance towards China. In this lecture, Professor Yuichi Hosoya discusses Japan's foreign policy under Prime Minister Shinzo Abe, particularly Tokyo's views on the growing U.S.-China rivalry.
For more information, please contact the Business and Policy Program at our website, 212-715-1208 or email register@japansociety.org.

JSBizPol . Last modified Dec 20, 2019 8:28 a.m.
---