Densho Dinner @ Home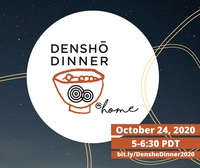 Our history shows that in moments of turmoil, our connections to one another matter more than ever. While we can't come together in person, we can still be in community with each other to collectively remember our past and affirm our commitment to action.
Join Densho for an inspiring evening of community, remembrance and solidarity — from the comfort of your own home! Together we can transform this challenging time into a moment for powerful social change. Registration is free, and we've got some incredible speakers lined up:
Valarie Kaur : activist, lawyer, filmmaker, writer
Brynn Saito : poet, educator, organizer
Kai Naima Williams : poet, spoken word performer & great-granddaughter of Yuri Kochiyama
SHIGETO : musician & producer
emcees Sean Miura and traci kato-kiriyama of Tuesday Night Cafe
Learn more and register at bit.ly/DenshoDinner2020

densho . Last modified Oct 14, 2020 8:59 p.m.
---