New episodes of Campu!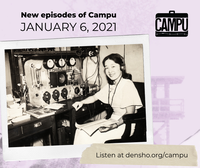 Densho's podcast Campu tells the story of Japanese American incarceration like you've never heard it before. Brother-sister duo Noah and Hana Maruyama weave together the voices of survivors to spin narratives out of the seemingly mundane things that gave shape to the incarceration experience: rocks, fences, food, paper. Follow along as they move far beyond the standard Japanese American incarceration 101 and into more intimate and lesser-known corners of this history. Episodes one through three are available now wherever you listen to podcasts.
Make sure to subscribe to Campu to hear new episodes starting on January 6th!

densho . Last modified Dec 29, 2020 3:05 p.m.
---