Children's Day from Home: Health, Happiness and Sports!
Japan Society (online)
333 East 47th Street
New York, New York, 10017
United States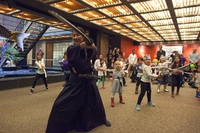 Join us for Japan's national holiday where all children are stars and their happiness is celebrated! This Children's Day, get up and move with our live online events just for kids! Families are invited to participate in full-body workshops highlighting popular sports from Japan including karate, aikido, and Tate sword-fighting. After energizing the body and mind with our live sports workshops, families can continue to celebrate with at-home activities to create their own traditional Children's Day crafts! Hang the koinobori (carp streamers) and don your kabuto (samurai helmet)—Children's Day is on its way!
This event is recommended for children ages 3-10 and their caregivers. Tickets are $15 ($12 for Japan Society members); only one registration per family is required. Please visit our website to purchase your tickets.

JSeducation . Last modified Apr 12, 2021 9:06 a.m.
---